Melt pour soap wholesale
Pour soap wholesale, soap molds, fragrance oil, dyes, mica's, wax cord, decoration materials and empty bottles, all on one address.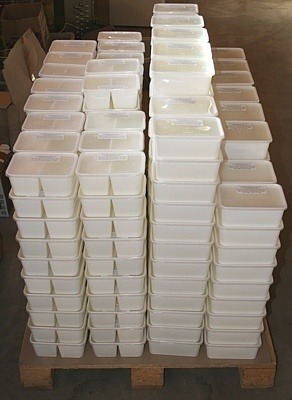 Unique pour soap formule thats stay dry*!
Glycerin melt pour soap clear & white
Fragrance oil
Big choice soap molds
Dye in only 4 basis colors
Mica powder
Aangers (metal & wood)
Ribbons, wax cord, (metal) beads
Liquid silicone to make molds
Drop & spray bottles, containers etc.
All MSDS (Material Safety Data Sheets))
Correct labels
Good prices
We not only sell to end users, we also a wholesale concept. Perfect for anyone engaged in business marketing / processing pour soap. For this you need. a VAT number
We can help you with all the supplies you need including wax cord, micas, fragrance oil, empty bottles and other containers at a very decent price.
Do you meet the cosmetics legislation?
There are a few things regulated, so must a bottle of fragrance oil have a legally correct label (So with danger signs and a lot of text). It is also required by law (depends on the ingredients, ±70% of the fragrance oils) to provide a child-save cap.
Wij hebben enorm veel tijd gestoken om een correct product op de markt te zetten. Wij werken met bedrijven / leveranciers samen die weten waar ze over praten. Onze geurolie is voorzien van een degelijk bruin flesje (speciaal voor ons gemaakt, licht breekt geur af), een full color etiket dat als er geurolie overheen loopt ook nog leesbaar is en correcte veilige sluiting.
Unfortunately most companies make a mess, dont forget that you are liable for what you sell, you are the supplier! In addition, a visit from the authority were enough to close if you do not order your affairs your business. (Temporarily)
We set, free of charge your own url on the pour soap packaging. You can resell it directly. For a small extra fee we can fill the fragrance oil into botles of 10 to 30 ml and labeled it with your name on it.
You have our soap already for only € 2,64 excl. vat / kilo
New in this industry? We've made a package with everything you need at a great price protecting you from high risk. You make a successful start.
Obviously only businesses and schools can purchase at wholesale prices. If you are accepted as a dealer / reseller we adjust your account, after that you can see the wholesale prices.
* Thanks to our innovative manufacturing process, our soap wil not be wet (sweating, condensing at normal conditions), remains soft (breaks practically not), melt faster, produced in the EU and meets all quality requirements (cosmetics legislation).

For more information contact us!
Melt pour soap wholesale